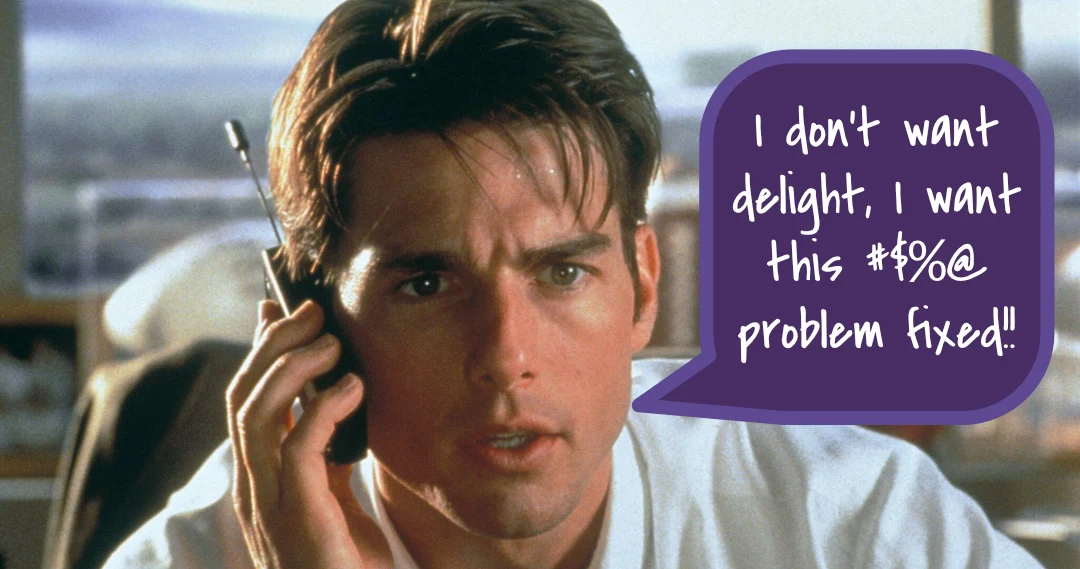 An Effortless Support Experience Is More Important Than Delighting Your Customer
In the famous 1996 movie Jerry McQuire, Rod Tidwell (Cuba Gooding, Jr.) isn't thrilled with Jerry's performance as his agent, and he exhorts Jerry (Tom Cruise) to convince him to stay on as a client. He has a simple way for Jerry to convince him to stay: "Show me the money." In the same vein, it seems that every customer wants their service provider to rise to the occasion, only this time they're looking for an easy, effortless resolution to their issue. And why wouldn't SaaS companies provide this?
Frictionless Support Experiences Win Loyalty –Not Delight
Indeed, according to a Gartner piece on "effortless experiences," that is precisely the case. But as obvious as the conclusion may seem, author Heather Pemperton Levy comes to some surprising conclusions.
Notably, she argues that "effort matters more than delight"—that businesses' efforts to exceed their customers' service expectations are dramatically outweighed by whether or not the business in question is providing an effortless experience.
Levy cites Nick Toman, co-author of The Effortless Experience: Conquering the New Battleground for Customer Loyalty, who said, "Companies told us that they try to delight customers because they believe there are significant economic gains to be made by exceeding the service expectations of their customers."
Ultimately, Heather writes, "Delighting customers may create 'feel good moments', but doing so has low impact on loyalty or repeat business."
This argument is based on a quantitative research study conducted by Gartner surveying hundreds of customer service organizations and thousands of customers. The study found "that there was virtually no difference between the loyalty of customers whose expectations were exceeded and those whose expectations were simply met," Levy writes. "In fact, loyalty actually plateaus once customer expectations are met."
Customer Service Interactions Tend to Drive Disloyalty
One of Levy's takeaways is that customer service generally pushes customers away. She says to "think of customer service like lifeguards; they're usually called upon when something goes wrong, yet the research shows that a customer who requires a service interaction is four times more likely to drive disloyalty than to drive loyalty.
"Drivers of disloyalty hinge on the amount of effort customers must use to resolve a service issue," Levy concludes.
Getting Ahead of the Customer Service Curve
In order to successfully provide effortless service experiences, Gartner recommended a number of principles for support leaders to follow when architecting their support experience.
Personalize the Support Experience
Populate every customer touchpoint of the support engagement with the specific data of that customer. What they did in the app. Who they are. How much they spend. Customers will feel better attended and issues will get resolved more quickly if agents don't have to look things up while the customer is waiting.
Next Issue Prediction and Avoidance
Use your customer and support data to predict the next likely issue and proactively address it before they even realize to complain about it. Use of "next issue avoidance" practices that move beyond first contact resolution will help agents head off the potential for subsequent calls.
Manage the Emotional Side of the Effort
Ticket and conversational data can be analyzed to understand the customer's sentiment and inform the agent. Succeeding on the emotional side requires agents actively manage the customer interaction with empathy that reduces the "feeling of pain" even if the complexity of the interaction can't be changed.
Empower Agents to Solve Issues on Their Own
By adding contextual insights and process automations to an agent's workspace you begin to provision them with the capability to solve issues directly. AI platforms like TheLoops can seamlessly integrate inside Zendesk, Intercom, Salesforce to identify issues and match them to known resolutions for the agent.
TheLoops intelligent SupportOps platform was created precisely to help SaaS businesses provide frictionless and informed customer service. In an environment in which an "effortless experience" outweighs delighting a customer, it is vital that your support team have access to the right data at all times in order to provide a seamless and personalized experience. Schedule a demo of TheLoops and find out how we can help your SaaS business achieve these goals.