We've all attended conferences as part of our day to day duties before. There's the networking, the swag, the opportunity to learn.
But this year's TSIA conference was different.
Of course it included all the components mentioned above but it also came with a clear indication that SaaS businesses, new and legacy, are at a vital crossroads when it comes to their customer experience. Complex models, siloed customer data and internal misalignment among teams are the catalyst for customers' churning and taking their business elsewhere–with or without fair warning.
That said, this year's conference theme, "Silo Busting To Drive Profits" isn't just aspirational, it needs to become actionable.
In this blog recap, we'll cover the three core takeaways that emerged from TSIA President and CEO J.B. Wood's keynote as well as his predictions specific to the role of AI in busting silos and delivering realized value to the customer.
J.B. encouraged everyone in attendance to go back and drive change within their organizations. We'll include a few ideas of our own to help.
Takeaway 1: Redesign or fall behind.
Since 2009, SaaS teams have been talking at length about the need to streamline and share customer data interchangeably. And still, 15 years later, the current set up of business as it stands today has each department with their own customer data subsequently operating as their own siloed business.
By definition, the word silo means: a system, process, department, etc. that operates in isolation from others.
How did we get here? It's worth noting that J.B. attributes the cause due to our primary focus on product development and sales–fueled by a growth at all costs mantra. He used the visual of a compass with 4 quadrants available: revenue growth, cost containment, product and customer experience. "Our tendency is to go NW: revenue (sales) and product (engineering) focused."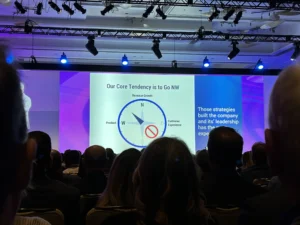 SaaS businesses have often overlooked customer experience despite having droves of data suggesting otherwise because CX's impact on revenue growth wasn't always understood…until our economic headwinds set in.
The former approach of deprioritizing CX will no longer work moving forward especially as capital is harder to come by and customers demand (and deserve) higher service standards.
"Our customers go on this wild ride through the silos," J.B. shared. "It starts in the sales process. They have to go up the sales silo and work through that complexity then come down and now they've signed an agreement. And then they go up the professional services silos and work with the people in the organization, and then they're ready to go live. And then they go up the customer success silo. And then they start having issues–and approach the support silo. And then when they need something else, they go all the way back down and start all over again."
Watch the replay of J.B's full keynote, The Busting of Silos here.
Companies must instead redesign their priorities towards personalized, data-driven customer experiences where data flows instantly and easily between departments (sales, product, engineering, support and success).
"When it comes to simplifying the complexity, you're going to hear more about unifying systems and data," J.B. said.
This leads us to takeaway #2.
(2) AI-Driven Customer Engagement is here to stay.
As we often share with our customers, AI is not a new thing in CX. However, the AI of years prior is not the AI of today. Chatbots were merely one version of AI, not the only version available to improve and overhaul fragmented support.
Today's AI, including generative, is about quickly correlating customer data, making contextualized customer data relevant and readily available not just for customer support agents–but for success, product, engineering and management, too.
Per J.B., "AI will help you make decisions about which customer engagement plays to run based on the data you have on that customer."
Support data alone contains insights on top case drivers, customer sentiment, even how frequently a customer has escalated a ticket–for most companies, it's just dependent upon manual analysis and human intervention to assess it, much less put a plan behind it.
Read more about TheLoops 35 signals of sentiment analysis extracted from support insights.
This is where strategic SaaS companies will have a competitive advantage by removing manual data analysis and extraction and proceeding forward with AI.
Customer journey maps will also be replaced by AI-driven contextualized data experiences and capabilities such as AI Agent Copilot, providing real-time, specific guidance and a continuous learning loop for agents as they deal with customer's live interactions. Complex cases will be resolved so much faster and customer's will find that their support times and experiences are much improved.
AI enabled CX will also allow companies to determine which customers just aren't obtaining value way ahead of QBRs or renewal periods. With the right AI platform for CX, SaaS companies will have a supercharged feedback loop aligning people, process and technology all in real-time to proactively service the customer.
"The emergence of AI is going to make this so powerful and MUCH easier to do," J.B proclaimed.
Takeaway #3: Change starts by way of communication
As we wind down our blog recap on TSIA Envision, we're happy to report that J.B. was reasonable and practical in observing that this type of change, the busting of siloes, requires executive buy-in. And that may not happen overnight.
Is it urgent? Dire? Absolutely necessary? Yes. But do big companies move that fast? Not often.
So, what can change?
Your team's mindset, approach and willingness to abandon the approaches of yesteryear and lean into AI-driven CX.
The power of collaborative questioning and discussion among your specific team can spark something dialog that can grow much bigger. But you can't just think about this, you do have to start with action. J.B. suggests that you, "go back into your own silo and start asking these questions."
What is the customer data we need to operate most efficiently?
If we had PERFECT knowledge of our customer, what data would be in our database?
How and where do we collect that data? (Hint, with TheLoops, we do this all for you across your CRM, ticketing solution, bug tracking data and more.)
What data do we collect that would be super valuable to another part of the company?
At TheLoops, our answer to that last question is your Support data. It's an absolute gold mine complete with product feedback data and analysis for your Product team, bug tracking for Engineering and customer impact and revenue data for Success and Support.
In closing, 2023 won't just go down in history as the year of GenAI and ChatGPT.
It will go down in history as the year when SaaS companies finally understood that customers have grown tired of generic support experiences and being overpromised and undersold on software's value. And the only way to fix this moving forward is AI-driven CX. This is not some fad or fly by night solution–it is the only way to break silos, apply customer data for more personalized CX all while improving employee's productivity in the process. This is the new path to profitability.
Those who ignore the compass direction of AI-driven CX will find themselves lost once more, bewildered by stagnant results. Choose intelligently.