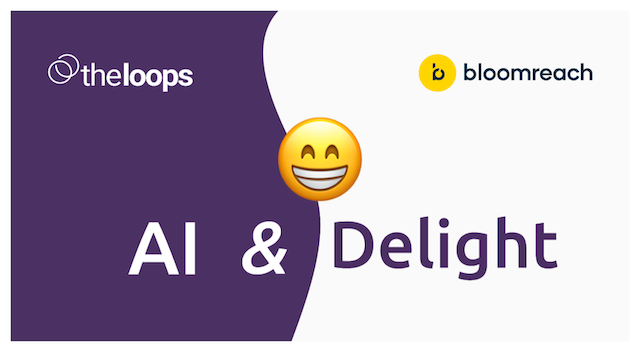 Bloomreach and TheLoops: AI and Delight
"Mind blowing."
These were the exact words Barnabas Ninaj, Engagement Support L1 Manager, at Bloomreach used to describe his company and team's experience with TheLoops.
For any company that's customer centric, this type of enthusiastic feedback creates delight all around…especially in a day and age where customer retention is top priority. And for technology companies, where implementations and onboarding are often labeled as intensive, cumbersome or time consuming, being described as "mind blowing" is even better. 😊
Fun fact: at TheLoops, it takes 1 hr to connect your data, 1 day to get insights and 1 week to start predicting.
So how did we achieve this description?
---
This partnership, and its success, is centered around how TheLoops empowers Bloomreach to better understand and delight
their customers
should they contact Support or interact with their dedicated Success team.
---
Just how many customers are we talking about? Bloomreach serves 850+ global brands, providing personalization technology that shows millions of e-commerce customers the right product, in the right place, at the right time.
Using TheLoops, which the Bloomreach team also emphasizes, "is extremely easy to work with and configure", Bloomreach has been able to make their team more efficient across a variety of Support and Success initiatives.
Obtaining AI Based Insights: Low-Code, No-Code For The Win
AI can certainly feel like a daunting "black box", even if it's all the rage right now. But what makes TheLoops AI "easy" is that the platform is a no-code, low-code solution.
Simple as that may sound, it's also robust.
Agent Assist, a Loops offering, empowers the Bloomreach support team with contextual insights from their CRM, Skilljar, Intercom, Confluence and Jira systems. Browse our integrations here.
Speaking of their current Intercom set up, TheLoops is helping Bloomreach agents by recommending the right actions based on intent in conversations, which in turn helps agents resolve issues faster.
TheLoops AI/Automation engine combines NLP and with anomaly detection to repurpose trends within data. This also guides managers on skills that agents need training on and knowledge gaps that exist while continuously evolving the system.
The Loops Manager's Cockpit gives Bloomreach support leaders real-time insights on the trends around topics/issues, sentiment, impact scoring, and other data which helps them auto-classify and route tickets.
What makes this even more mind blowing is that Bloomreach, or any customer of TheLoops for that matter, doesn't need a developer or analyst to manage and mine the data.
Results, Results, Results!
Before implementing TheLoops, the Bloomreach team had to manually prepare spreadsheets, Tableau, and Looker reports, not to mention conduct their data analysis over a 30 day+ period.
Those days are behind them now. With TheLoops, the Bloomreach team now has real-time visibility to uncover areas where improvements are required like agent up-skilling, process improvement and customer churn.
To provide a "mind blowing" experience to their customers, Bloomreach is also leveraging TheLoops for escalation efficiency. Speeding up response times is always good business and a surefire way to continue customer satisfaction and ROI.
Bloomreach COO Christy Augustine is excited about what's to come between TheLoops and her company. Each interaction between both orgs is met with open-ended dialog, collaborative planning and of course, a few good laughs, too.
Somya Kapoor, our CEO+Co-Founder here at TheLoops also shares, "I am super excited about the ongoing possibilities for Bloomreach using TheLoops to turbocharge their CX operations! The team gets really excited every time we share new product updates but when it gets real is when they see the incredible insights that both Support and Success teams can use."
This story is a true example of the adage: work hard, use AI to work smart. And delight your team and your customers. 😉
Would you like to explore what's possible with TheLoops for your team? Request a demo here.