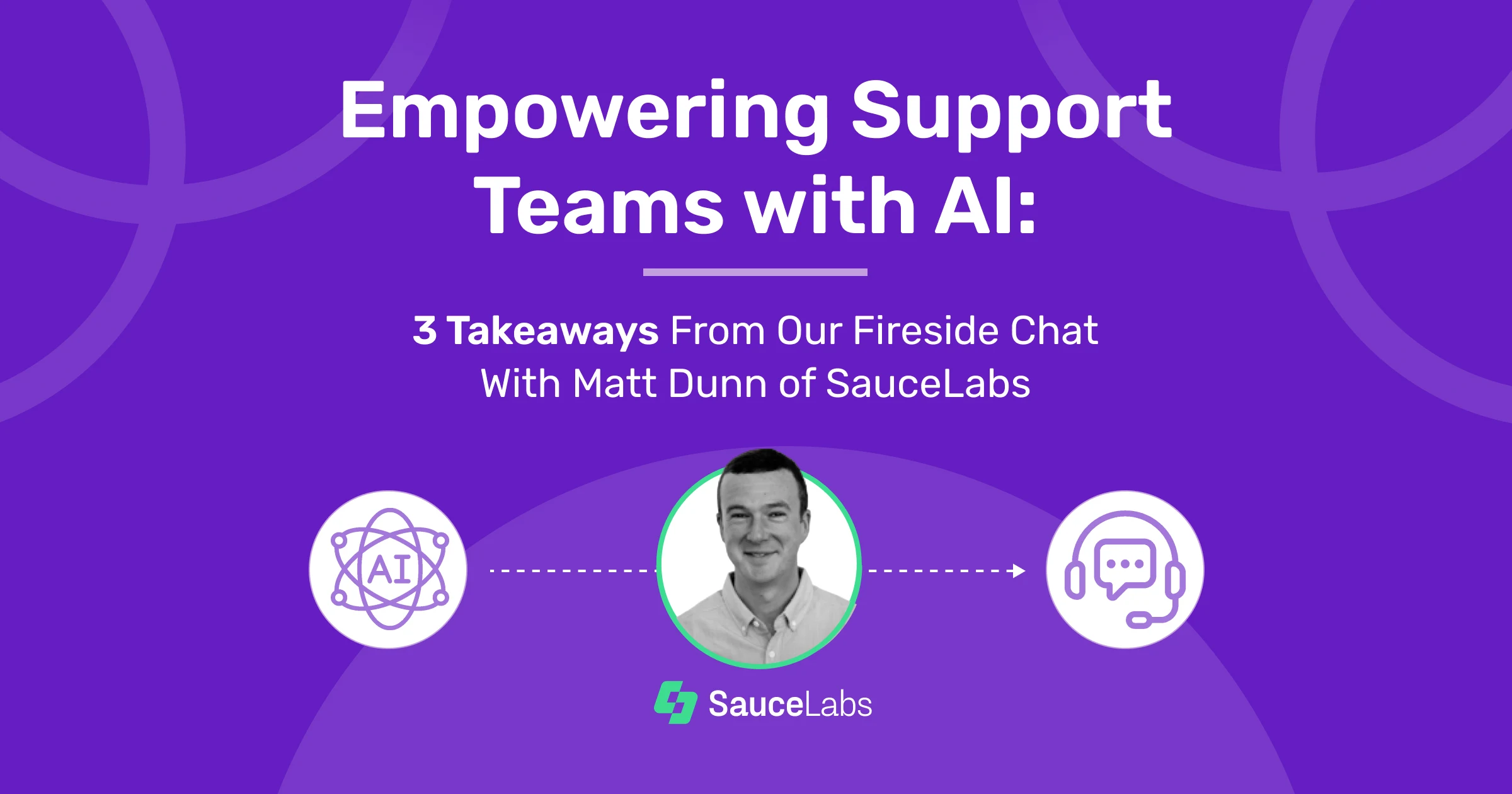 Empowering Support Teams with AI: 3 Takeaways From Our Fireside Chat With Matt Dunn of SauceLabs
What if you could blink and magically make all of the manual processes that bog down your Support team disappear? How good would it feel if Support became a strategic function driving value for your organization by consistently impacting retention and expansion opportunities?
These days, adopting AI for CX does make it that simple. With just a few clicks of a button, or within the blink of an eye, Generative AI, Sentiment Analysis and Escalation Prediction quickly do the manual work for you, arming you with actionable next steps while giving hours of your team's time back.
The Manual Work Dilemma Is Worsening. And Here's Why It Needs To Be Stopped!
A study conducted back in 2020 revealed that the average worker spends at least 3 hours a day on manual work. That's the average worker. In Support, that number can easily go up. Factor in the tech tools and ticketing systems your teams are switching back and forth between, the new remote work environments and additional collaboration channels–plus the amount of customer data requiring analysis and you could be at 3.5 or 4 hours per day.
It's common knowledge that the more your Support team spends in reactive mode, piecing things together while trying to understand customer pains and challenges, the less time they have to swiftly resolve those issues. Awareness around this problem is helpful but it doesn't make the manual work dilemma disappear.
What can? AI.
AI in Support is something we have been talking about for the last 6 years but now, there's a change occurring around AI specific to its adoption: it has evolved from a 'nice to have' to a 'need to have.' During our recent Fireside Chat series with Matt Dunn, Senior Director of Technical Success at SauceLabs, we discussed the benefits of AI, proactive backlog management, and intelligent collaboration.
In this blog recap, Matt shares 3 takeaways on leveraging TheLoops AI this past year. Matt, his Support team, Success team, Product and Engineering teams have all dramatically improved operational efficiency and customer satisfaction by bringing AI into their org.
As Matt described it: "Now with TheLoops, we are able to get ahead of problems before they become problems."
Here's how you can follow suit and even share this with relevant stakeholders in the timely manner.
Takeaway #1: Better EX Leads to Better CX
According to reports from both Gartner and Forrester, this isn't anecdotal advice: it's fact. Improving your employee's experience leads to better customer experience.
With that said, Matt does encourage Support leaders who are hesitant or fearful of AI to shift their mindset and embrace it–not as a direct replacement for headcount or team members–but as a compliment to them. This is what our CEO calls Human-assisted AI.
"Everyone's thinking about AI and Support, and a lot of people have fears of AI being a replacement for their team members, right? That's not the way I look at it. That's not the best way to go about exploring this. The best use cases for AI complimenting support really start with driving efficiencies, making things a lot easier so people can concentrate on the more difficult parts of their jobs and automating things that are too manual. Use AI to streamline!"
Some examples of AI that Matt and his team now rely on to circumvent the manual work include ticket prioritization and routing, using AI to report on and share feature requests with the product team, accessing real-time customer insights and even understanding revenue at risk.
Watch and hear more below.
As an exercise for you and your team, stop, document and audit:
How many manual processes are you relying on at the moment?

How much time do you spend on them in one single day?

Discuss your observations and notes in a team sync to achieve clarity and alignment on doing away with one process at a time–or all at a time, with the help of AI.
Takeaway # 2: Automation Means More Than One Thing
One of the processes Matt and his team hyper-focused on was resolving their data delays, specifically moving from a lagging view of customer health and trends to a real-time view of automated insights available within one click on their screens.
Before AI, messages, interactions, bug issues and company communication were dispersed between Slack, Zendesk, Jira, Gainsight and Salesforce which required CSV dumps from each to analyze and assess.
With this in mind, Matt's fireside chat host, our CEO+Co-Founder Somya Kapoor, really drove home that whenever we talk about using automation specific to AI in CX, it's not just about task automation.
You can also automate your data analysis, aka data insights, especially when there are multiple systems of record that should be working together but can't because of their disjointed nature. We at TheLoops call these as contextual insights.
Using AI and automation–which connects each piece of valuable customer data into one single view–allows you to go from reactive CX based on static data to proactive CX based on contextualized data.
One Way In, Many Ways Out
With the data from each system of record as an input, AI models will assess sentiment, customer ticket clusters, trend analysis and other insights to provide a much more detailed view of the customer, historical interactions, uncover what they're asking for, when their renewal is, what revenue is at risk and so forth. If you've previously wished for a data analyst/scientist or been on a holding freeze to hire one, consider AI instead.
"Support ticket data is really valuable, but it's only one piece of the puzzle," Matt also shared.
"When my teams are prioritizing tickets, we need information from other teams and their systems to do just that–prioritize. Without automation and contextualized data, we have to stop and ask 'what phase or what accounts are critical at the moment? What are the current escalations? And by the way, those aren't just technical escalations, they can be all kinds of things and again, they come from external systems.' Using theloops to bring all this data together right then and there adds to the picture of what the current trends are that we're seeing, what the problem's are that we're facing and what the health of the customer's account is."
Don't get behind the automation curve either. In the most recent Global State of CX 2023 report from the CX Network, 42% of respondents cited that automation was critical for delivering CX at scale and that it was a top priority.
As a final plus for implementing automation, you can also set it up to seamlessly share insights with engineering and product teams in real-time which helps them understand where the ticket load is coming from or, to conduct more accurate product feature analysis.
How can you and your team assess when it's time to automate your insights? If this sounds like your day to day reality: it takes 3-4 months to dump data in Excel, manually tag each case, and after all is said and done, you still have to take steps to email and distribute what you unearthed with your product teams so that they understand trends. Break out of this reactive cycle and gain valuable time back by having AI do this for you.
Takeaway # 3: From Confusion To Clarity: AI's Impact
As we start to wind this recap down, it's important to note that Matt was no stranger to AI–he had used it in the past. However, the ease of use and implementation back then was not the same. Implementing AI used to be a cumbersome, daunting task requiring 9-12 months to even get it right.
In the past, especially before the rise of Gen-AI, it literally took months of taking historical data and building a model then training the model. There was a lot of investment and time to get AI to a point where it was useful. And if you ever wanted to change anything, you'd have to go back through that process all over again. That was two and a half, maybe three years ago and things have come a long way–leaps and bounds since then according to Matt.
As words of encouragement, Matt emphasized not only the new ease of implementation but the benefits as well, especially with a platform like TheLoops.
"The upside in this new era is that using a platform like TheLoops requires a lot less handholding and training models and you can really get something up and running with really valuable information pretty quickly."
And for those curious about the investment required to get going, Matt had this to share. "The gains do outweigh the cost of having AI, plus it's becoming more and more cost effective anyhow."
What are those gains you might ask? SauceLabs has achieved $480,000 in annual support savings, a 25% increase in agent productivity and the reduction of escalations by 30%.
Want to see the whole webinar?