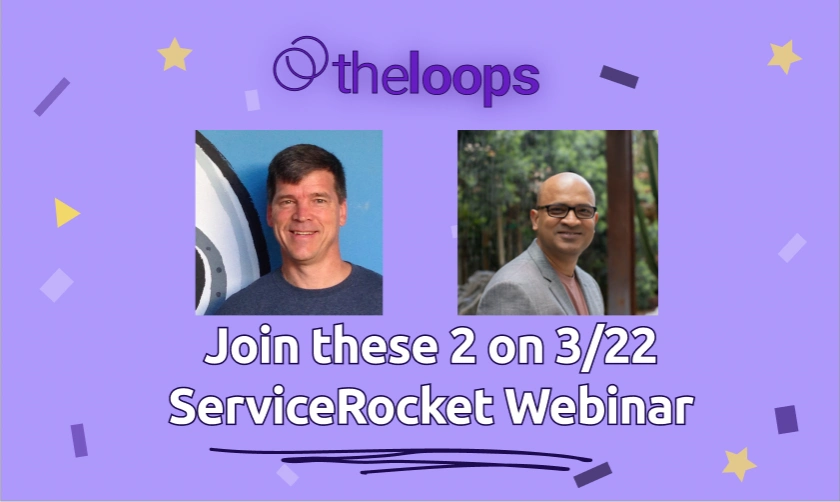 ServiceRocket Webinar With TheLoops | Scale Your CX
The right technology can do more than just increase productivity across your team. With tech-enabled support services, you can break down bottlenecks using automation, close data gaps & retain more customers.
These very topics are what TheLoops CTO and Co-Founder Ravi Bulusu and Adam May, Vice President of ServiceRocket, will be discussing during an interactive webinar on March 22, 2023, 10:00 am PST.
If any of these happen to be a priority that you and your teams are evaluating to scale your CX, please join our discussion and ask your specific questions during the webinar Q+A.
We've seen what's been happening across the tech sector with head counts reduced, all while revenue and retention goals have grown 2-3x. Tech-enabled support can help you and your team in these tough times.
Uncover a new way of managing your SupportOps, the way of the future: using AI and tech-enabled tools.
About Adam May: Adam May is a leader of global support, training and customer success teams across ServiceRocket and Atlassian products. As the Vice President of Managed Services at ServiceRocket, he focuses on driving growth and scalability for B2B SaaS software organizations. Before joining ServiceRocket, he worked for both large companies (Salesforce, Oracle) and small (Clarify, Saba). He is a Stanford alumnus with over 30 years of experience in his field.
About Ravi Bulusu: Ravi Bulusu is an innovative leader and engineer with extensive expertise in the design and development of distributed computing, real time analytics and high availability products. TheLoops is Ravi's sixth start-up. His previous roles include CTO and Head of Engineering at Aisera, Chief Architect at Caspida (acquired by Splunk) and Senior Staff Engineer at VMware. Ravi holds numerous patents including "Dual-path distributed architecture for network security analysis" and "Enterprise security graph". Ravi has been working in real time machine learning for 25+ years.
---
As AI continues to expedite and accelerate support, ServiceRocket and TheLoops are committed to educating you on the latest advancements and enhancements to drive efficiency and improved customer outcomes.
Visit the sign up page on ServiceRocket's website to learn more about this webinar and to save your seat.