Bringing the Right Data to the Forefront
The latest in our Future of SupportOps webinar series (you can check out part one here) features Blueshift Vice President of Customer Success Todd Ilberg discussing some of the challenges his company—which offers software to track and improve businesses' interactions with their customers—has faced as it has grown, and how Blueshift has used TheLoops to help address some of those challenges. He is joined by TheLoops CEO and co-founder, Somya Kapoor.
In the discussion, Ilberg notes that, like many growing companies, Blueshift found itself nearly drowning in data from half a dozen different platforms serving various vital functions, including Zendesk, Jira, Salesforce, Confluence, Segment, and Slack.
Getting to the required information consistently "became a fire drill," Ilberg says, and the question increasingly became, "How do we bring the right data to the forefront?" and "how do we go from being firefighters to becoming fire alarms?"
Tying Together Loose Threads with TheLoops
The company ultimately chose to tie together its loose threads with TheLoops. In less than a week, Blueshift had successfully connected the six disparate platforms with "minimal customization," according to Ilberg, thanks to The Loops' numerous out-of-the-box integrations, bi-directional API, and "no code, low code," drag-and-drop UI.
This is now enabling the company not only to interact with its most important data in a single, user-friendly dashboard view, but also to benefit from new, actionable insights, including AI-powered predictive trend and sentiment analysis through TheLoops' Operations Visibility.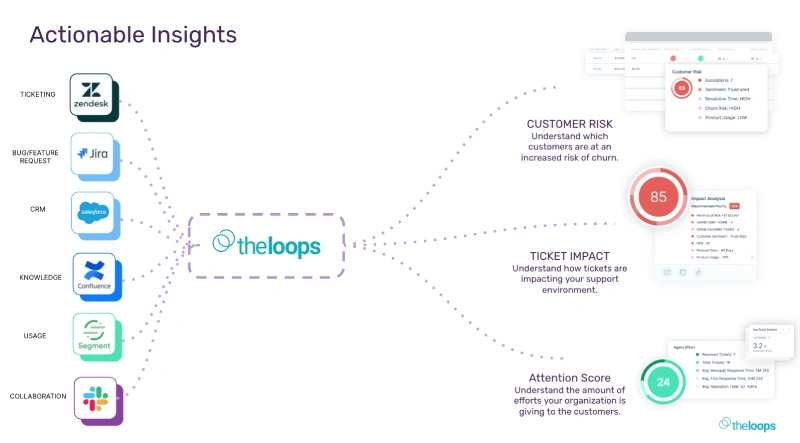 Smarter, Faster, Better with AI
Ilberg noted that recent macroeconomic conditions have been difficult for many companies and operational efficiency has been a continuous focus at Blueshift. "How do we become smarter, faster, better with the people and the resources that we have?"
One growing challenge was the amount of time and energy his company was spending digging through multiple layers of its various software platforms to find pertinent information. Thanks to TheLoops' Agent Assist, the company is far more efficient. Whereas previously, multiple customer service representatives would need to individually searching for necessary data, TheLoops simple dashboard view of these data points allows everyone to have easy access to up-to-date information, reducing the time spent creating custom dashboards, while also contextualizing data from across the company interconnects.
Bringing It Together in One Spot
And because of features like AI sentiment analysis and real-time backlog analysis, Blueshift is increasingly able to achieve Ilberg's goal of spotting and addressing emerging problems before they become crises. He says this has benefited Blueshift at multiple levels by enabling the company "to bring the voice of the customer internally."
"It's out there bringing it together in one spot," Ilberg said of TheLoops. "Having an opportunity to create a view that is operationally sound for our CSMs, but then also to share opportunities around sentiment–to take information that we're seeing and hearing in the field and translate that into intel that we can pass along to the rest of the organization—that's very critical."
Want to see the whole webinar?
Sign up here to watch on demand webinar "Blueshift Bridges the Gap Between Success, Support and Product".
About the Speakers
Todd Ilberg, Vice President of Customer Success, Blueshift
Todd is customer success executive and digital strategist with 15+ years of experience. He has worked with Fortune 500 companies delivering measurable outcomes.
Somya Kapoor, CEO and Co-founder of TheLoops
Somya is CEO and Co-Founder of TheLoops, an intelligent support operations platform for product growth. Her experience covers building ML and predictive analytics products to product go-to-market.