How are Support teams implementing AI? Most of the time, we're hearing about the implementation of chat. 
In the past, implementing AI+chatbots used to be a big, long and cumbersome project.
Now a days, AI can be implemented quickly.. and one of the biggest impacts of it is reducing the amount of manual work teams perform while also improving the Customer's Experience. 
On Thursday June 8th at 9:00 am PST, we'll hear directly from Matt Dunn, Senior Director of Global Customer Support at SauceLabs who has implemented TheLoops AI to help his teams obtain escalation prediction and proactive backlog management, removing silos across Slack, Zendesk, and Jira–to name a few. Doing so eliminated manual work and didn't require additional headcount. Plus, the long lasting impact has been transformational!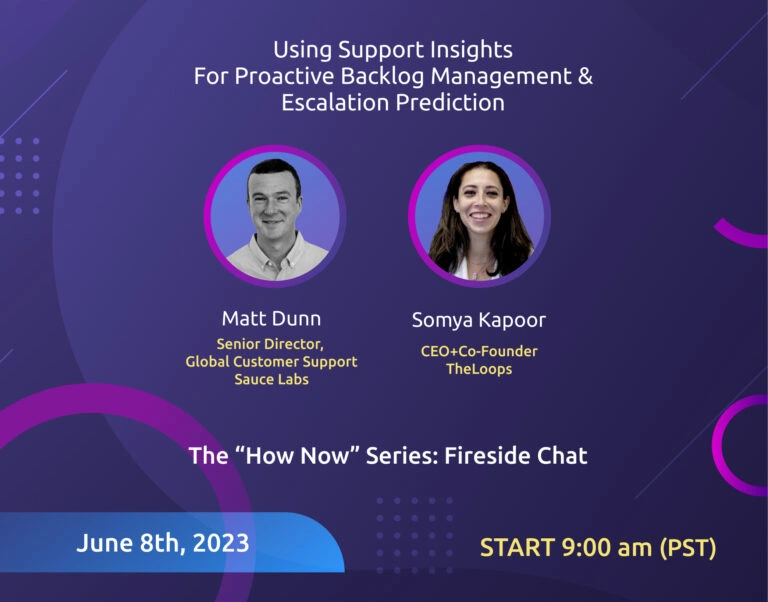 Join our conversation to learn and discuss how: 
Support and Success are now able to align around contextualized, real-time insights from support data without the need to view each ticket.

How CX teams can stay ahead of the game and provide the ultimate customer experience which results in proactively handling backlog, predicting customer escalations and aligning with Engineering counterparts. 
Want the same for your team? During this chat, we'll also discuss how AI can:
Uncover real-time sentiment analysis and Voice of the Customer insights. 
Provide agent monitoring which removes the guessing game for Management and Leadership based on lagging data and instantly shows what is causing delayed resolution times because you can track the performance of your Support agents in real-time.
Remove the dependency and need to hire a Data Analyst or Data Scientist to put all that together.
As a bonus, we'll share the efficiency gains Matt's team continues to achieve daily and answer your questions on building this out for your Support org.
This is a conversation with your input and participation encouraged! Feel free to bring questions.