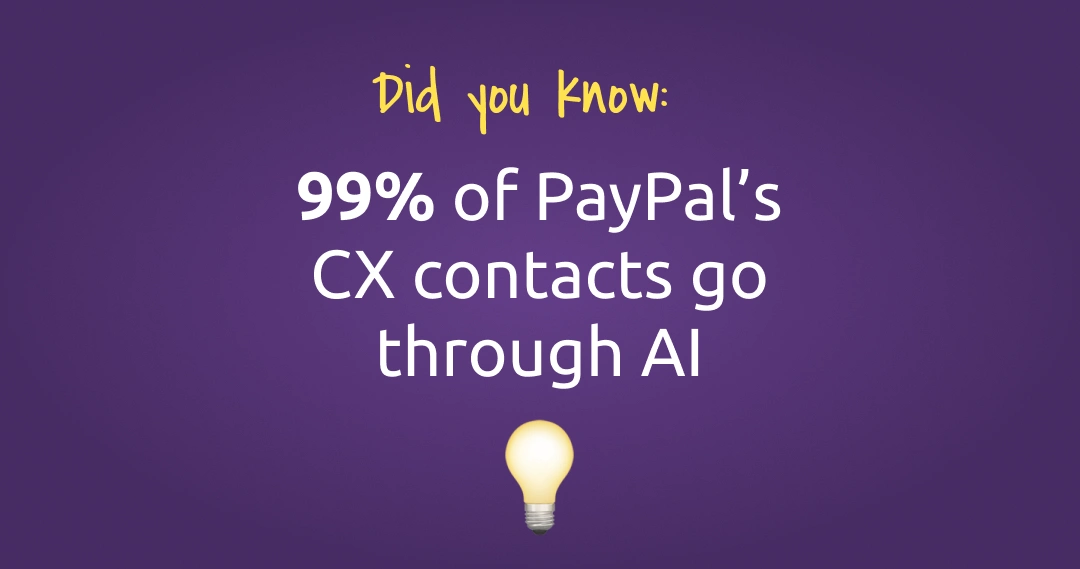 Paypal's Adoption of AI For CX Shows Us What's Possible in 2023 & Beyond
Will they stay….or will they go? The entire software industry is abuzz right now about customer churn, retention and expansion.
John Ragsdale of TSIA shared in our recent webinar on effortless experiences, "For 2023 planning, more and more companies are doing customer journey mapping to help improve and significantly impact stronger renewals. Support has a huge potential, positively or negatively, to impact the customer experience."
Changing support from reactive to proactive is imminent. But the magic question is, "how can you implement change quickly, seamlessly and in a cost effective manner using a stitched data approach?"
Market leaders like PayPal, a customer of theloops, are setting the standard for what's possible when companies, big and small, embrace and align on the mission of providing effortless, frictionless experiences using AI for CX…transforming the support department from a reactive center to, in PayPal's words: providing an effortless customer service, which is highly discoverable and accessible, and more importantly, effective in resolving our customer's issues.

99% of all contacts at PayPal go through AI powered complaints suite for automated identification and classification.
If you weren't able to join the webinar between PayPal, TSIA and theloops, or, you are on our site researching how to help your support organization transform, here are a few key takeaways on the topic of frictionless experience to help you evaluate areas of opportunity for your SaaS solution.
On Using AI for Proactive Servicing and Prevention: Webinar Recap and Highlights
As part of their ongoing planning and implementation, which first kicked off two years ago, PayPal established a few overarching goals specific to support: proactive servicing and prevention.
Week over week, PayPal tracks 3.5 million customer sessions for their help center. Breaking this out further, 1 million sessions are via voice, and 750k are generated from the PayPal assistant chatbot.
99% of these interactions go through the AI powered complaints suite which then helps PayPal:
Identify the nature of the complaint

Categorize the issue

Dig further into the root cause

and associate it with the product among other data
Additional goals, and benefits of AI, were also employee facing.
Santosh Addanki, Sr. Director of AI and Platforms for PayPal, and webinar co-presenter emphasized, "Essentially, AI is empowering our agents or, you know, in PayPal's terms, our teammates to have the right insights to resolve the customer issue an effective manner."
The team, top down from support leadership to the agent & customer facing level, aligned on fixing issues upstream & preventing issues before they happened.
This inspires a powerful question for leaders to now assess.
Just how aligned are you and your org across support, service, and product? Is your mission and view of support as a growth driver vs a cost center cohesive and clear? Or non-existent?
More On Why PayPal Turned To AI: A Complete Overview Into the Customer Lifecycle
Every support leader knows, the challenge with shifting from reactive support to personalized and predictive support, is that the data from support teams is in a lot of places.
Another huge barrier and blocker is that many orgs don't have consistent tracking. As John shared in our webinar: "There are a lot of gaps."
What's ideal is having an operations group across the entire journey….or, something much more cost effective and impactful: theloops AI.
Here's what Santosh had to share about using artificial intelligence, speficially theloops for a complete overview on the customer lifecycle.
Adding to this, Santosh shared: "We try to have a complete overview of what's happening in our customer's life cycle, so that even before the contact happens, we proactively reach out and mitigate the contact. This is where we are really partnering with theloops and have these customer journeys through the insights and then proactively reach out and mitigate the contact even before the contact happens."
The 6 Pillars of AI
When it comes to utilizing artificial intelligence across support, PayPal provides a clearcut way to evaluate where you are, what you can adopt next and what's possible for the future: the 6 pillars of AI.
Most support orgs are currently utilizing 2 pillars leaving huge areas of opportunity, adoption and growth.
The key objective for all software companies in 2023 will truly be identifying:
(1) How effortless is it for customers to work with you and to get their issues resolved?
(2) Where do even your "happiest" of customers stand?
Recent data from Gartner reflects that 20% of customers who reported they were satisfied with their service interaction also expressed how, at the same time, they were actually intending to leave the company and buy from somebody else.
No revenue is safe.
Adding to this, a recent study from McKinsey reflected that only 15 percent of leaders said they were fully satisfied with how their company was measuring CX—and only 6 percent expressed confidence that their measurement system enables both strategic and tactical decision making.
On Embracing AI For Your Support Org in 2023
One of the key points loops CEO Somya Kapoor brought up during the FAQ portion of the webinar is that you don't need a lot of data connectors to get started using AI for CX.
If you're reading this, wondering, who within my organization is needed or required to set up an AI platform like theloops, the answer is, "Typically a support ops person, whomever sets up Zendesk or Salesforce."
You can use out of the box connectors, and theloops is no-code, low code. Within 6-7 days of set up, you will see the evolution and output of the AI.
In the next 12 months, it will be interesting to see the evolution of support. Who will adopt AI? Who will fall behind?
There's no doubt about it, the CX industry is evolving and the next generation of customer support is here. To explore theloops yourself, check-out our free trial.
To access the full webinar replay, click here.